Pursuing Compensation After a Motorcycle Accident Leaves You Paralyzed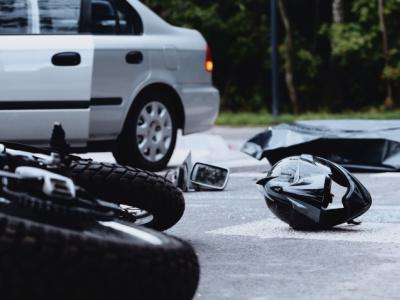 Imagine you are riding your motorcycle past Lavon Lake in picturesque Collin County when suddenly you are struck by an erratic vehicle traveling at a high rate of speed. You wake up in the emergency room and are informed you were involved in an accident where a distracted driver swerved through the center lane and struck you on your motorcycle. In addition, you are notified that you suffered a severe spinal cord injury, are paralyzed from the neck down, and will likely never walk again. In an instant, life as you knew it is irrevocably shattered, never to be the same again.
According to the American Association of Neurological Surgeons, about 17,000 new spinal cord injuries occur yearly. Spinal cord injuries are amongst the most severe nonfatal injuries that can be experienced. Like other types of catastrophic injuries, rehabilitation from a spinal cord injury can be a lifelong process. If you have been paralyzed due to the negligence of another, consider contacting an experienced attorney familiar with pursuing compensation for clients who have suffered spinal cord injuries.
The Value of Spinal Cord Injury Cases
What makes spinal cord injuries unique is that the resulting settlements for such cases can often be quite large due to the severity of the damage and the expenses involved. For most families, the cost of sustained medical care needed for a spinal cord injury is too much to afford, which is why aggressive representation after suffering such an injury is essential since you will want to receive the most compensation available to you.
Lifelong Medical Care After Your Spinal Cord Injury
Affording to live after a spinal cord injury can be exceedingly difficult. The Christopher and Dana Reeve Foundation states that the average lifetime medical expenses for someone with quadriplegia are well over four million dollars. In addition, there are other expenses involved regarding spinal cord injuries. These expenses can include the following:
Prolonged hospital stays and repeated hospitalization

Inpatient/outpatient therapies and rehabilitation

Medical and mobility equipment

Home adaptations such as wheelchair ramps

Prescription medication costs

Loss of wages due to inability to work

Pain and suffering
Contact a Collin County Motorcycle Accident Attorney
Responsible motorcyclists understand the risks associated with riding their motorcycles. However, regardless of how skilled and careful a motorcyclist is, it only takes one distracted driver to cause a catastrophic injury. If you were involved in a motorcycle accident that left you paralyzed, the determined attorneys with Burress Law PLLC will work tirelessly to recover the compensation you deserve to move forward with your life. Contact our McKinney motorcycle injury lawyers at 214-726-0016 for a free consultation.
Source:
https://www.aans.org/en/Patients/Neurosurgical-Conditions-and-Treatments/Spinal-Cord-Injury
https://www.christopherreeve.org/living-with-paralysis/costs-and-insurance/costs-of-living-with-spinal-cord-injury